If you're in the market for a new water heater, then you may have noticed there are a number of different system types, brands and sizes on the market today, probably more than there have ever been. As one of the major appliances in the home, your water heater is incredibly important to the functionality of your plumbing system as a whole. If you find it difficult to imagine your life without a hot shower, then you know just what we mean. Make sure that you hire a professional to guide you through the water heater installation and replacement process in Washington and Iowa City Iowa. At Harris Boyz Heating and Air Conditioning, we not only install new water heater we also repair them.
At Harris Boyz Heating and Air Conditioning we offer major brands of new water heaters installations such as Rheem, A.O. Smith Navian. Let us help with the right choice for your hot water needs.
How Does a Tankless Water Heater Work?
Standard storage water heaters apply a continual source of heat to a water tank to keep the water at the right temperature for whenever a hot water tap comes on. With a tankless system, the water is only heated when it is needed (which is why these systems are sometimes called "on–demand" water heaters). The water heater is attached to the fresh water plumbing and uses heating elements—either electric or gas—to heat the water in the pipes whenever a hot water tap or appliance that uses hot water requests it.
What are the Benefits of Choosing a Tankless Water Heater?
Here are some of the major advantages that a tankless system has over a storage tank water heater:
Never run out of hot water: Since tankless water heaters heat up water only as it is required, there is no supply of water to deplete. That means you won't run out of hot water with a tankless water heater in your home. This is especially beneficial for large families that can place a strain on hot water during the mornings.
Energy savings: Tankless water heaters do not need to constantly heat up a water tank, so they use far less energy than standard system. You will soon pay back the costs of initial installation with the money that a tankless system will save you.
Longer lifespan: The lack of a tank and a constant energy supply makes the tankless system longer–lived than their competition. This gives you additional time to enjoy the energy savings. Most last more than 20 years — about twice the lifespan of storage water heaters.
Space Saver: As you can see in the picture below the tankless water heater takes up quite a bit less space than the traditional storage tanks.
Request a Free Estimate Today
Need to find out how much your repairs and improvements will cost?
Harris Boyz offers free estimates to new customers!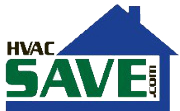 We always give free detailed estimates for new customers, and a technician will be able to talk you through any questions or concerns you may have. We are proud to be an official SAVE Certified Company. What this means to you is that we can get you the biggest rebate available to you through your utility company on new equipment installed in your home.